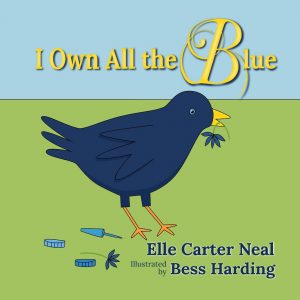 "Pink is a flamingo colour. Blue is for bowerbirds."
Join bowerbird and his friends in a colourful tale of mayhem as they experience a world where entitlement is taken to the extreme.
Ideal as a discussion-starter story for exploring society's expectations, generalisations, privilege, and the value of sharing.
I Own All the Blue is available in paperback from many online bookstores. ISBN 9780992443825
Elle Carter Neal is the author of the middle-grade chapter book The Convoluted Key, picture book I Own All the Blue, and teen science-fantasy novel Madison Lane and the Wand of Rasputin. She has been telling stories for as long as she can remember, holding childhood slumber-party audiences entranced until the early hours of the morning. Elle decided to be an author the day she discovered that real people wrote books and that writing books was a real job.