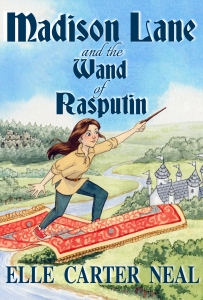 The first book in my teen/tween science-fantasy series, Madison Lane and the Wand of Rasputin, is now available as an ebook (Kindle, EPUB, and PDF) and in print. The cover illustration is by the talented Sandra Salsbury. You can see some of the cover art progressions here.
Here is the blurb for the book:
There is magic within.
Maddie becomes Earth's best hope of survival when she uses a magic wand to travel to its quantum-entangled twin planet, Ground. But there are other people after the wand, and they have suspicious intentions and unfair advantages. Can Maddie keep it from falling into the wrong hands as she completes the quest that will save both worlds?
Meanwhile nine-hundred-year-old Lady Sa finds herself in serious trouble when she is captured during her quest for the Source of magic. Worse, she is unable to fulfil her duty as guide to the wand-holder, and her disappearance puts new wand-holder Madison Lane at risk in an unfamiliar world.
Read the trailer (extract) here.
Please join my mailing list if you would like to receive updates, sneak peeks, and other happy news 🙂