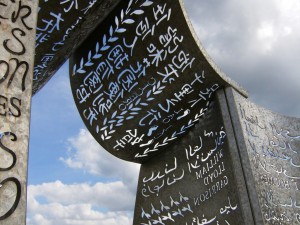 The long awaited update post. I gave birth to a beautiful baby girl in December – another easy homebirth, but another silent reflux baby. She hasn't yet fully outgrown the reflux, but she started crawling at six months and is now pulling herself up to stand at eight months. Her brother hasn't coped very well with the addition of a constantly crying baby to his life, and turning three didn't help, either. We have had to take several steps back and re-group often. But now that the doldrums of winter are finally beginning to shift into spring, we are all feeling a little bit lighter-hearted.
A month after my baby was born, my mother died. Continue reading "End of a Chapter"
Elle Carter Neal is the author of the middle-grade chapter book The Convoluted Key, picture book I Own All the Blue, and teen science-fantasy novel Madison Lane and the Wand of Rasputin. She has been telling stories for as long as she can remember, holding childhood slumber-party audiences entranced until the early hours of the morning. Elle decided to be an author the day she discovered that real people wrote books and that writing books was a real job.