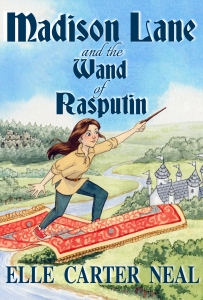 Two planets, quantum-entangled but light-years apart. One is Earth. The other is Ground. After a century of waiting, the quantum bridge is once again open. It's time for a magical adventure in another world.
Castles. Dinosaurs. A Quest. Time Travel.
About the Book
Teenager Madison Lane becomes Earth's best hope of survival when she uses a magic wand to travel to its quantum-entangled twin planet, Ground. But there are other people after the wand, and they have suspicious intentions and unfair advantages. Can Maddie keep it from falling into the wrong hands as she completes the quest that will save both worlds?
Meanwhile nine-hundred-year-old Lady Sa finds herself in serious trouble when she is captured during her quest for the Source of magic. Worse, she is unable to fulfil her duty as guide to the wand-holder, and her disappearance puts new wand-holder Madison Lane at risk in an unfamiliar world.
A thrilling tale that weaves together science and fantasy with time-travel, real historic characters, and even a few dinosaurs. Suitable for ages 9 to 14+
Praise for Madison Lane and the Wand of Rasputin
"This was an amazing book. It kept me on the edge of my seat. It was edited well, and Ms. Neal's writing style was fun and realistic. I like the idea of Ground. It sounds like a fun place (besides the banshees!), and I love the play on words with Ground/Earth. 🙂 I got lost in the story as I read it. There is just enough fantasy elements in it, mixed with the realistic elements, to make you wonder if such a world could exist. Madison is a strong female character. I think she acts reasonably at all times, and isn't afraid to help anyone out, even if they are on the other side of the universe. I love the fact that her family collects magical items and the historical character references. At 287 pages, it is a nice size for an MG reading fan. The content in the book is appropriate for all ages (unless you object to magic). Even though I enjoyed the ending of this book – everything tied up nicely, I am hoping there is a follow up book. There are two bonus short stories at the end of the book which are a nice addition.
*NOTE* I got a free copy of this book in exchange for an honest review."
~ Erik Weibel, This Kid Reviews Books ~
Details
Author: Elle Carter Neal
Series: Grounded, Book 1
Genre: Science Fantasy
Publisher: Elsa Neal, Seal Lane Media
Year: 2014
Pages: 296
ISBN-10: 0992443814
ISBN-13: 978-0992443818

Order
Madison Lane and the Wand of Rasputin is available in paperback and e-book (Kindle, EPUB, and PDF).
Paperback
Australian residents can purchase a signed print copy directly from me for AUD$18.00 (with free shipping):
Please use the comment box on PayPal to indicate for whom you would like the book signed, and also if you wish your book to be shipped to a different address to the one you list on PayPal (please provide the full name and address).
Alternatively (unsigned) – your local bookseller can order a copy for you (ISBN: 0992443814), or you can purchase from a number of online retailers such as Wordery, Fishpond, and Book Depository. For Australians who don't wish to purchase through this website, I recommend using the search engine Booko to find the cheapest seller as the prices tend to change.
Residents of other countries should compare prices between your local online retailers, Book Depository, and Amazon (if you have a local warehouse in your country):
Amazon US | Amazon UK | Amazon CA | Amazon AUS | Amazon IN | Amazon DE | Amazon FR | Amazon ES | Amazon IT | Amazon NL | Amazon JP | Amazon BR | Amazon MX
E-book
Madison Lane and the Wand of Rasputin is available in paperback, and electronically for Kindle (mobi), EPUB, and PDF. Your purchase of the e-book through this website will give you access to all three electronic versions:
Buy E-Book Now for USD$2.99
You can also purchase the Kindle version directly from Amazon at these links:
Amazon US | Amazon UK | Amazon CA | Amazon AUS | Amazon IN | Amazon DE | Amazon FR | Amazon ES | Amazon IT | Amazon NL | Amazon JP | Amazon BR | Amazon MX
Preview